COFFEE CHILI T-BONE STEAKS WITH COMPOUND BUTTER
Actions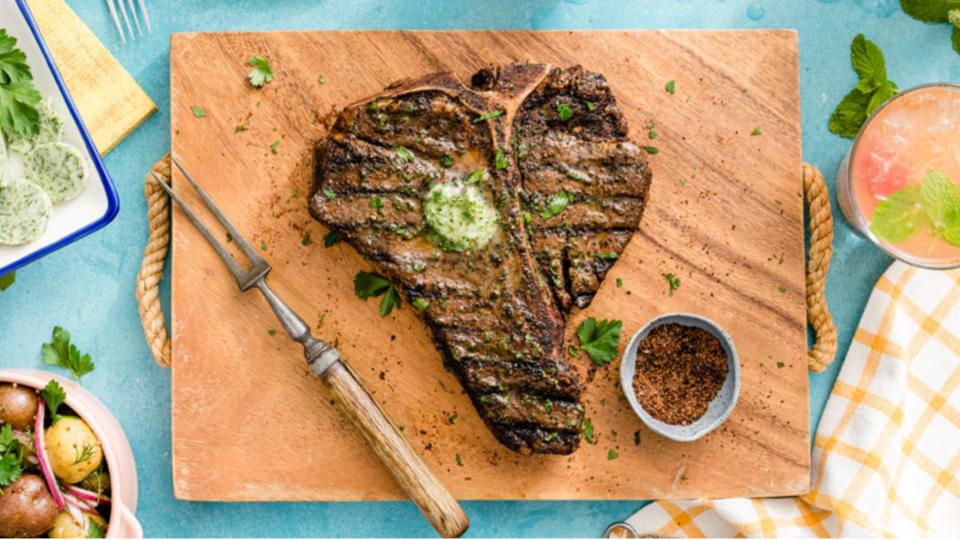 COFFEE CHILI T-BONE STEAKS WITH COMPOUND BUTTER
May 28, 2021
INGREDIENTS
T-Bone Steak
¼ cup finely ground CO-OPERATIVE COFFEE French Roast
2 tablespoons Mexican chili powder
¼ cup dark brown sugar, tightly packed
1 tablespoon smoked paprika
2 tablespoons kosher salt
2 CO-OP T-Bone steaks, about two inches thick

Fresh Herb Compound Butter
½ cup CO-OP GOLD Chef's Butter, softened
½ teaspoon kosher salt
1 clove garlic, minced
¼ cup fresh flat leaf parsley, finely chopped
2 tablespoons fresh chives, finely chopped
½ teaspoon black pepper, freshly cracked

DIRECTIONS
By Chef Angie Quaale
Serves: 2
Prep time: 30 minutes
Total time: 15 minutes
T-Bone Steak
In a small bowl, thoroughly combine all the ingredients.
Sprinkle a generous amount of the rub onto both sides of the steak, patting in with your fingers.
Allow your steak to sit at room temperature while the BBQ heats up.
Set a gas grill to medium high heat. If you're using a charcoal grill, open the bottom vents and light the charcoal. The grill's ready to cook steaks when the charcoal turns a grayish-white colour.
Place the seasoned steaks on a clean, lightly oiled grill. Grill uncovered, turning over only once. Use an instant-read thermometer to determine cooking time. See Steak Cooking Temperatures chart for information.
Transfer the steaks to a cutting board and let them rest uncovered for five to 10 minutes before slicing.
Serve each steak topped with a generous portion of compound butter.

Fresh Herb Compound Butter
Combine all ingredients in a bowl and mix until well combined.
Place on a piece of plastic wrap and roll into a log. Twist the ends to seal well.
Refrigerate at least one hour.
Slice into rounds and enjoy.
Steak Cooking Temperatures
Cook steaks until an instant read thermometer inserted horizontally into the meat (not touching the bone) registers:
RARE: 57°C (135°F)
MEDIUM RARE: 63°C (145°F)
MEDIUM: 71°C (160°F)
WELL DONE: 77°C (170°F)

Always allow steaks to rest at least five minutes before serving.