FULLY LOADED HASSLEBACK BAKED SWEET POTATOES.
Actions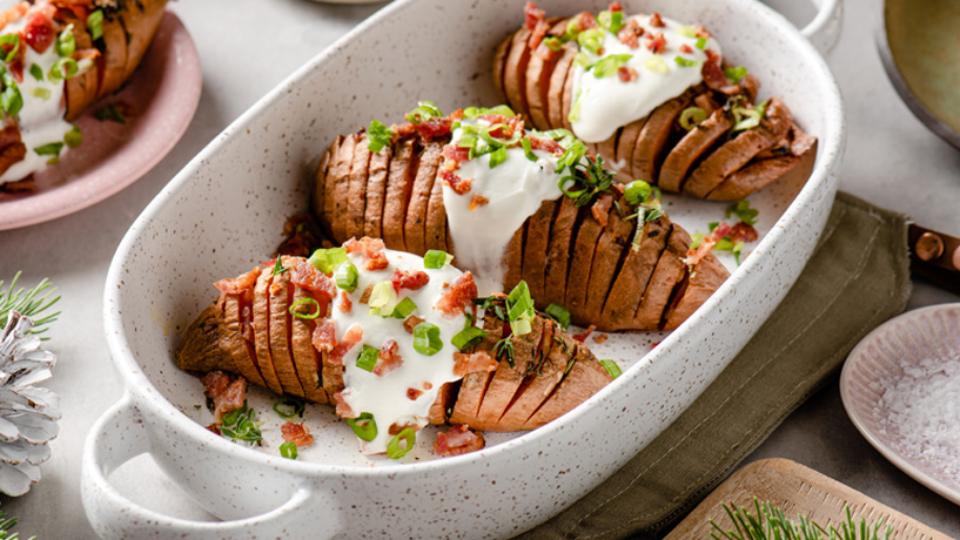 FULLY LOADED HASSLEBACK BAKED SWEET POTATOES.
December 1, 2020
INGREDIENTS

10 slices CO-OP GOLD Hardwood Sliced Bacon
4 Beauregard medium-large sweet potatoes
8 large cloves of garlic, very thinly sliced
2 tablespoons chopped thyme leaves
¼ cup CO-OP GOLD Chef's Butter
Salt to taste
2 cups sour cream
1 cup finely sliced green onions

DIRECTIONS

Prep time: 10 minutes
Total time: 2 hours
Serves: 4
Preheat oven to 425° F. Lay bacon on a parchment-lined baking sheet, and bake until golden and very crispy, about 15 to 20 minutes. Remove bacon to a plate lined with paper towels. Pour bacon fat into a small frying pan and set aside. When bacon is cool, crumble or coarsely chop.
Using a sharp knife, slice a little off the bottom of each potato so they have a flat bottom and can stand up straight on a baking sheet when baking. Lay each potato on its flat edge on a cutting board lengthwise beside a wooden spoon with a round handle about half an inch in diameter. Make narrow slices of an eighth to a quarter inch across the short width of the potato without going all the way through the potato so the slices stay connected. Insert garlic slices between every few slices of each potato.
Heat the reserved bacon fat on medium heat, add the butter and thyme and sauté for 30 seconds. Place the potatoes on a parchment-lined baking sheet and drizzle the butter-thyme mixture over each potato. Sprinkle each potato generously with salt. Bake for 45 to 60 minutes, depending on the size of the potatoes. Periodically baste the potatoes with the fat from the pan. The tip of a small knife should easily pierce the potatoes when they are done.
Place the potatoes on a platter or plate, sprinkle with salt and top with sour cream, bacon and green onions. Serve immediately.