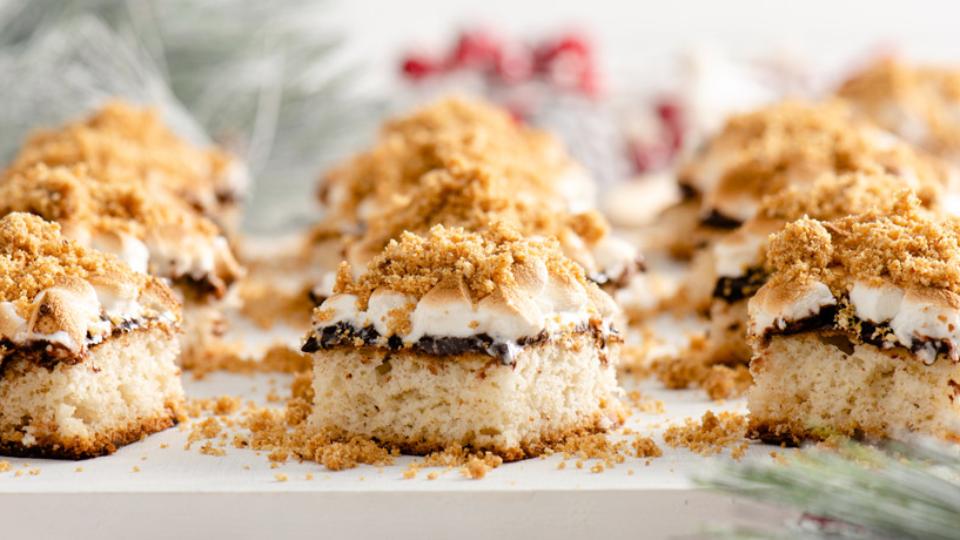 S'mores Squares
November 23, 2020
INGREDIENTS:

White Chocolate Brownie Base
Butter for the pans
1 box BETTY CROCKER SUPER MOIST White Cake Mix
2 CO-OP GOLD large eggs
½ cup vegetable or canola oil
¾ cup water
½ cup CHIPITS White Chocolate Chips
Ganache

¾ cup whole milk
2 tablespoons butter, softened
1 package (300 g) CHIPITS Semi-Sweet Chocolate Chips

Marshmallow and Crumble

1 bag mini marshmallows
6 tablespoons TENDERFLAKE Lard, melted
2 cups HONEYMAID Baking Crumbs
1 ½ teaspoons CLUB HOUSE Cinnamon
¼ teaspoon ground nutmeg
¼ cup brown sugar

DIRECTIONS

Makes two 9-inch by 13-inch pans, 18 to 24 squares per pan
Prep time: 1 hour, 10 minutes, including chill time
Total time: 1 hour, 40 minutes
Preheat oven to 350° F. Butter two 9-inch by 13-inch cake pans.
Mix all brownie base ingredients together, and spread into pans. Bake for 25 minutes until golden brown. Cool. Then chill in freezer or fridge.

To make ganache, heat the milk and butter in a small pot on medium heat until just bubbling. Put the semi-sweet chocolate chips in a bowl, and pour the milk mixture on top of the chips. Stir gently until smooth. Let cool at room temperature.
After brownie has fully cooled, remove from fridge, and spread the ganache over brownie base. Chill in fridge. Spread the marshmallows over the top, and use a blowtorch or broiler to brown the marshmallows.

To make the crumble, mix together the lard and remaining ingredients. Sprinkle over toasted marshmallows. For an optional decorative touch, melt extra chocolate chips, and drizzle the melted chocolate over the top of the finished squares.